When necessary, at the most demanding locations, customers or town halls, SignSpain can prepare a basic architectural project and present it on your behalf. SignSpain may also pay the taxes on behalf of your company for these permits.
Sometimes not only a municipal authorization is required, but also permission from other authorities with responsibility for occupying roads or for the use of special machinery. These may also be SignSpain's duty.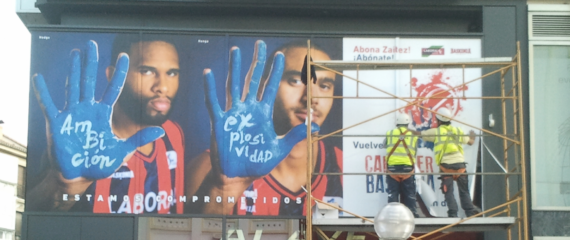 Safety has its own particular requirements. Some of the recommended proceedings that you should manage before an installation are the following:
Opening a "working centre" at the installation location
Having a "Visits book" registered specifically for each site at the local office of the Industry ministry.
Having a "Subcontractors book" stamped specifically for each site at the local office of the Employment ministry.
Having a Safety Plan for every specific site signed by a qualified Safety Engineer, approved by the customer´s safety site coordinator.
Having a qualified "Preventive Resource" on site at the time of the installation.
SignSpain is committed to ensuring it provides a safe working environment at any time, and that all employees adopt safe work practices at clients' sites.
All SignSpain partners attending a construction site hold a current card for legally required training in Health & Safety in the Construction Industry for sign installers (TPC).
But sign installation on a program basis does not finish when the sign is actually fixed and connected. Afterwards, a legalization procedure is required. Unfortunately, when seeking legalization, there can be big differences between one town hall or another. For this purpose SignSpain has the only specialized architectural bureau as a partner. In particular cases, in order to obtain this legalization, we may require from you technical construction drawings showing mainly the electrical wiring and pointing out the EU standard requirements as well as the CE mark conformity (under a confidentiality agreement between us).
All of this may also be within the scope of SignSpain if you need it.